Huron-Kinloss Hosted Programming
Huff n' Puff 50+ Shinny Hockey
Huff n Puff Registration is now Full. Please contact the Community Services Department to be added to the wait list.
Over 50? Start the week right with a non-competitive pick-up hockey game! Join Huff n' Puff every Friday beginning November 3rd at the Ripley Arena.
When: Fridays starting November 3rd
Time: 10:00 to 11:30 a.m.
Where: Ripley-Huron Community Centre
Cost: $176/player
Full equipment is required and a CSA approved helmet
One dark and one light coloured jersey is required
No Contact
28 skaters maximum or 14 for each team
1.5 hour games with a flood
Goalies are no charge
All players insured through the CARHA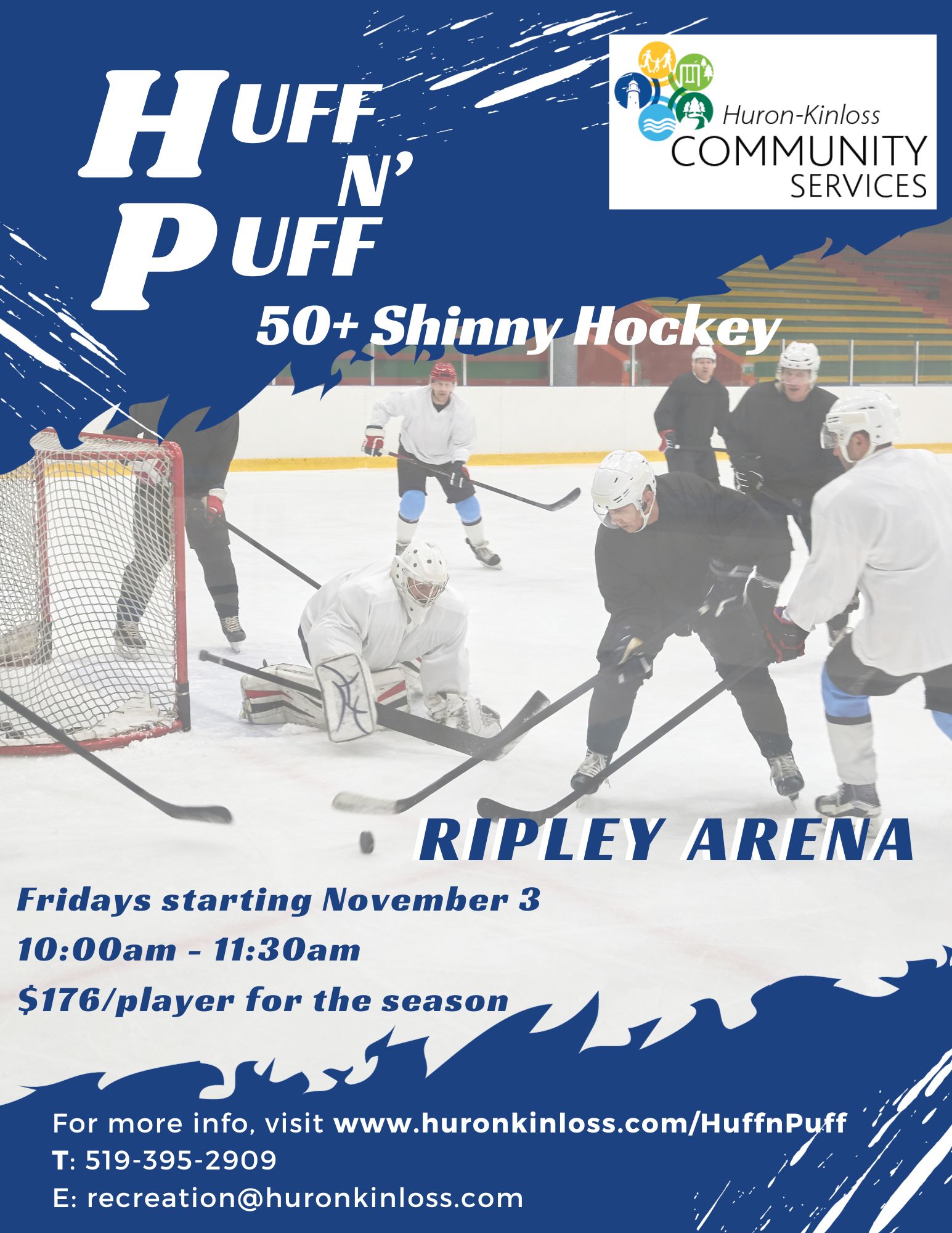 Registration is now full. Contact recreation@huronkinloss.com
or call 519-395-2909 to join the wait list.
Saturday Mornings Strength and Spin Classes
Join BMC Energy every Saturday morning Strength Class and Spin Class in Ripley. Instructors Melissa and Brooke will give you a great morning workout to kick off your Saturday!
Strength Class - Drop In
Saturdays, November 4 to December 23
8:00 a.m. to 9:00a.m.
Ripley-Huron Community Centre (17 Queen St., Ripley)
Spin Class - Register
Saturdays, October 28 to December 23
9:00 a.m. to 9:45a.m.
Ripley-Huron Community Centre (17 Queen St., Ripley)
Only 9 bikes available
For more information visit BMC Energy or contact Melissa and Brooke at bmcenergy105@gmail.com
Join Carmen for Wednesday afternoon Dance Classes!
Dates: Wednesdays, November 8-29
Time: 1:00pm - Beginner Class or 2:00pm - Intermediate Class
Where: Point Clark Community Centre
Contact Carmen for more information: carmen.coburn@icloud.com or 519 895-1419
Join Melissa for Yoga every Tuesday morning!
When: Tuesdays starting October 31
Time: 9:00am to 10:00am
Where: Point Clark Community Centre
Contact Melissa for more information at progressivemobility101@gmail.com or call 226-222-2147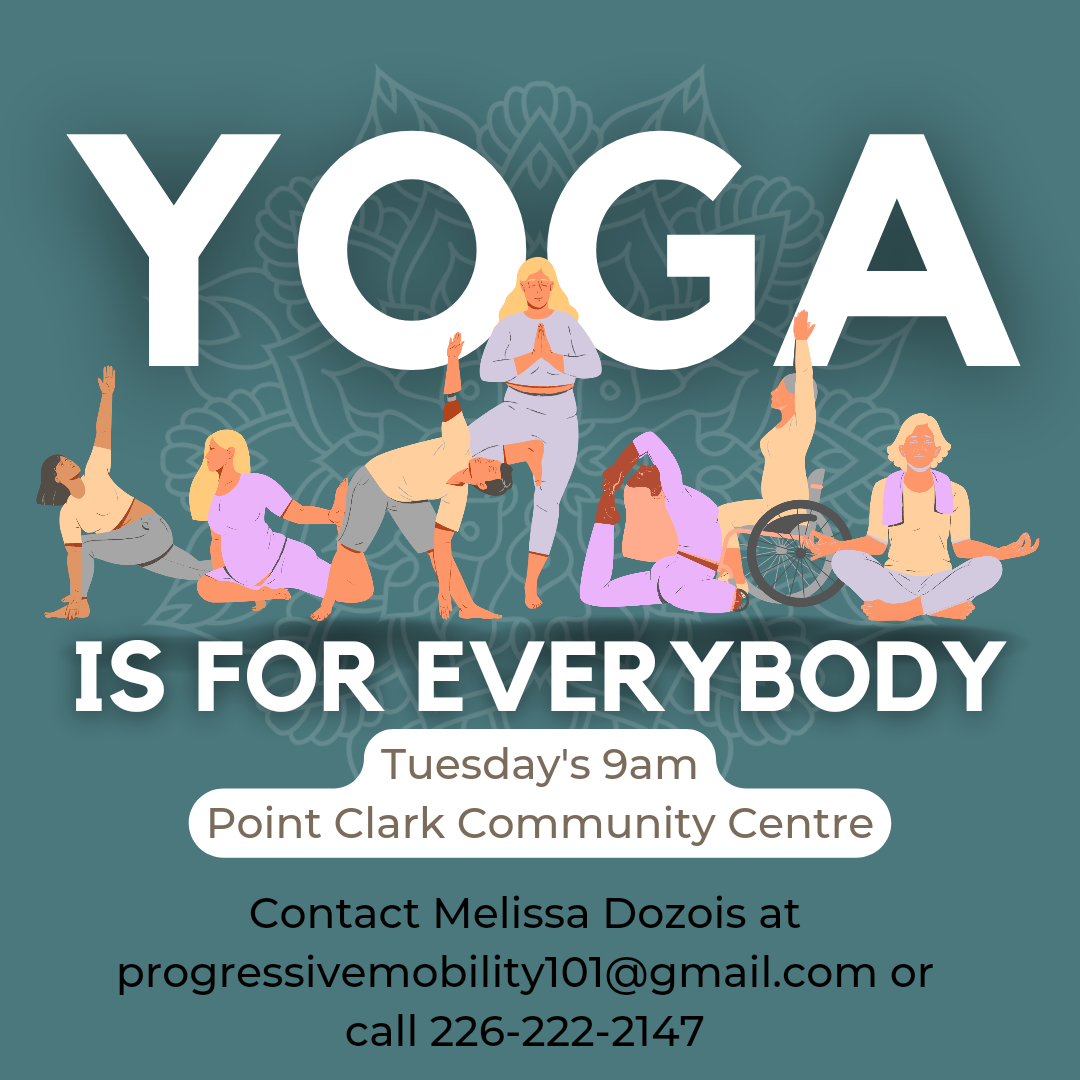 Contact Melissa
Indoor and Outdoor Pickleball
Indoor Pickleball
Indoor Pickleball session is running from October 15 to April 30, and is offered Monday to Thursday at the Lucknow Community Centre from 10:00am to 12:00pm, as well as Monday and Thursday evenings at 7:00 pm most weeks.  Please reach out for further details regarding evening Pickleball. For more information or to sign up, please visit their Facebook page under Lucknow Pickleball or contact Debra Gammie at debra.gammie@yahoo.com
Outdoor Pickleball
Enjoy outdoor pickleball from May to September in the Point Clark Community Centre parking lot, Monday to Friday from 9:30AM - 11:30AM. The cost for the season is $40. 
Subscribe to Our News
Stay up to date on the Township's activities, events, programs and operations by subscribing to our news.