Holiday Shopping Pass 2023
The annual Holiday Shopping Pass returns on November 12th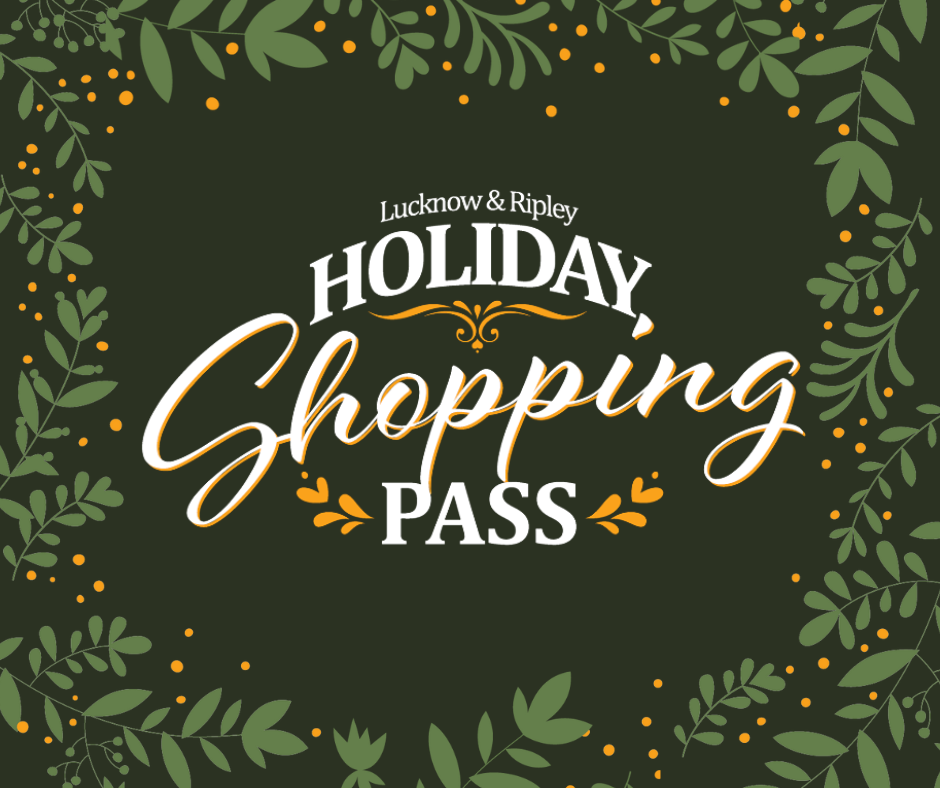 Now more than ever before, it is incredibly important to shop local and support our Huron-Kinloss businesses.  Residents and visitors are encouraged to shop local this holiday season and pick-up a Holiday Shopping Pass at a participating business in Lucknow, Ripley, Pine River or Point Clark.
The amount spent will be recorded on the Pass in $10 increments. Once a total of $150 has been spent, the Pass can be submitted to the Township of Huron-Kinloss (or to a drop-off location) for a chance to win one of THREE $150 Huron-Kinloss Shopping Sprees. Passes submitted before November 30th will be entered to win 1 of 2 early bird prizes.
Lucknow 
Armstrong's Bakery
Brooke Marks-RMT
Cathy's Crafts
Dollar Haven (drop-off location)
Edgar's Feed and Seed (drop-off location)
Everlasting Flowers & Gifts (drop-off location)
Farmacia Health Bar
Flame N' Bricks Pizzeria
Green's Meat Market
Halo Health & Wellness
Hodgins' Building Centre
Hodgins' Home Hardware (drop-off location)
I Want That Bag
Lucknow Pharmasave (drop-off location)
Mani and Mane
Mary's Family Restaurant
Mayfair Training
Me 2 You
Ripley 
All About Hair
Bruce County Wine Seller
Collective Co. Boutique
FIG Studio Kitchen (drop-off location)
MacAdam's Mini Mart
Pollock Electric/Ripley Ace Hardware
Ripley Variety (drop-off location)
Shoreline Chic (drop-off location)
The Woodshop
Lakeshore
Mercato and Pizzeria by Pine River Cheese (drop off location)
West 81 Restaurant, Point Clark (drop off location)
Before clicking "Add to Cart" this holiday season, browse the numerous shops we have in Huron-Kinloss; you may find exactly what you are looking for (and a whole lot more!). 
Contest ends December 24th and participants have until January 5th, 2024, to submit their completed Passes.
Subscribe to Our News
Stay up to date on the Township's activities, events, programs and operations by subscribing to our news.